On Wednesday 18 April 2018, the Polar Prediction Project's Societal and Economic Research and Applications subcommittee (PPP-SERA), in cooperation with the European Polar Board (EPB), organized a PPP-SERA Open Session 'Generating Societal Value from Improved Weather, Water & Ice Forecasts in the Polar Regions' in The Hague, Netherlands. The Final Report of the session is now published and available online.
In the context of the annual 2018 meeting of PPP-SERA in Wageningen, The Netherlands, a PPP-SERA Open Session was organised at the premises of the European Polar Board in The Hague, The Netherlands.
The aims of the PPP-SERA Open Session were: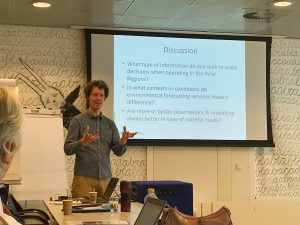 – To share developments and insights from the Polar Prediction Project and the social science agenda during the Year of Polar Prediction (YOPP);
– To provide perspectives on the role and value of Weather, Water, Ice & Climate (WWIC) Services from a range of maritime sectors, and;
– To exchange ideas on the societal value of enhanced WWIC services.
Hereby, the Open Session facilitated the sharing of experiences and insights with the wider community and especially with those interested in research, policy and practice. About thirty people attended the meeting, representing a variety of organizations and interests. Various expert presentations provided input for in-depth discussions between the attendees.
The report can be downloaded here.