SALIENSEAS Scenario Workshop Report Published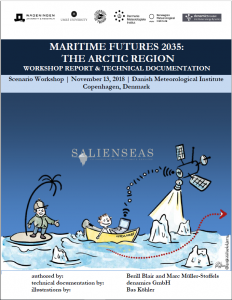 The comprehensive Final Report from our workshop held at the Danish Meteorological Institute (DMI) in Copenhagen, on November 13 2018 has been published and is available for download here. Our workshop, Maritime Futures 2035: The Arctic Region brought together a select group of experts to deliberate metocean and sea ice services needed to support decision making for safe, sustainable Arctic maritime activities now and until 2035. You can find our illustrated scenarios and detailed future projections based on our participants' deliberations in the report. These scenarios will be used as assets in the serious games SALIENSEAS is currently developing to help guide demonstration service testing and development.
We would like to express our heartfelt gratitude to our hosts at the DMI, and all the participants who volunteered their time and expertise to create valuable knowledge in service of Arctic maritime actors and communities. Special thanks to Denamics GmbH, Polar Research and Policy Institute, and Study of Environmental Arctic Change (SEARCH) for workshop support provided.
Photos by Jelmer Jeuring, Illustrations by Bas Köhler